A respected and well-seasoned sideman and studio musician after nearly two decades in Nashville, Aaron has fiddled and sung with Asleep At The Wheel, Pam Tillis, Jerry Reed, Tanya Tucker, Joe Diffie, Gail Davies, Wade Hayes, Raul Malo, Mel McDaniel, as well as bluegrass legends Jim & Jesse and the Virginia Boys and J.D. Crowe and the New South. In 2006 he performed at the White House with the Nashville Bluegrass Band. His fiddling can be heard on Jim Lauderdale's 2008 Grammy Award winning "The Bluegrass Diaries," and on the Mavericks' 2013 comeback album, "In Time." Aaron plays fiddle, viola, guitar, mandolin, upright and electric bass, 5-string and tenor banjo, Dobro, Hawaiian steel guitar and percussion. 

Aaron is touring in support of his great new CD, "The Staying Kind", displaying his penchant for old country, bluegrass, swing, Celtic and Gypsy jazz, and showcasing his remarkable talents as a fiddler and singer, songwriter and arranger. On ten songs he plays all the instruments, with special guests helping out on the remaining five….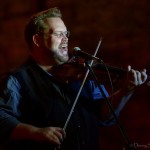 On a more personal note, I was also honored to have Aaron play fiddle and mandolin on the CD I recorded in Nashville last year. The record was produced and recorded in Richard Smith's studio. Richard, a frequent performer here at the Log House, is a good friend, 'playmate' and collaborator of Aaron's. 
This will be a great chance to see and hear one of Nashville's finest. Come on out and be amazed...
www.aarontill.com

Doors open at 7, show at 8.
Voluntary potluck, BYOB.
$20 donation